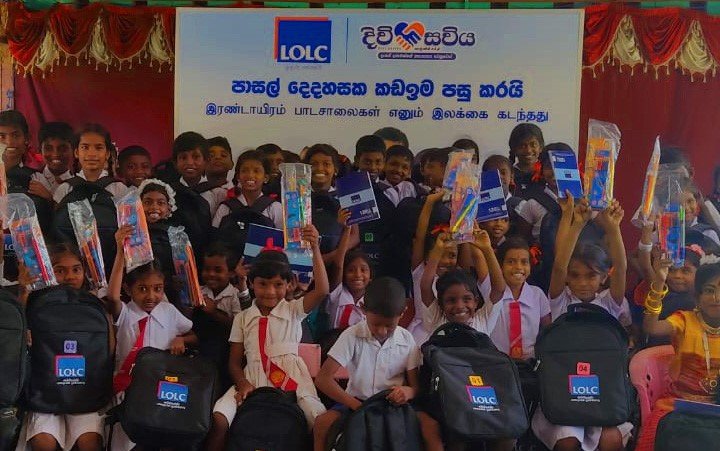 LOLC Group, a true Sri Lankan multinational conglomerate renowned for its longstanding dedication to the nation spanning over four decades, has reaffirmed its commitment to corporate social responsibility through the successful achievement of a pivotal milestone in its 'LOLC Divi Saviya' initiative. 'LOLC Divi Saviya' launched in February 2023, has been a beacon of hope for the most deserving children across Sri Lanka. This ambitious project has now successfully reached out to 2000 schools as at date, transforming the educational journey of countless children.
To commemorate this momentous occasion, a special event was organized at the Punkudathivu Roman Catholic Tamil Mixed School on September 15, 2023, where the essential school supplies were distributed to the students at the presence of several well-wishers.
Mrs. Sakunthala, representing the parents of Hettiyawa Primary School in Anuradhapura, spoke about the profound impact of the 'LOLC Divi Saviya' project. Her emotional words resonated deeply, "It is a day when hope rained down upon us, just like the much-needed rain during a drought. When our villagers whose livelihood is agriculture were struggling with helplessness, wondering how to provide for our children's education, LOLC emerged as our guide. I am overwhelmed with gratitude for the joy and care you have brought into our hearts. While we struggled to afford the essential school equipment that our children need for unhindered learning, LOLC's 'Divi Saviya' has come forward to support the children of our nation".
With heartfelt gratitude, Mrs. Rupika Prashanthi, a parent at Thannabodhiya Vidyalaya, expressed her emotions, "Speaking on behalf of our school, I want to extend our deepest thanks to LOLC for selecting our school in the rural Walapane region for this initiative. This contribution has a thoughtful impact on the education of our precious children, and we are truly touched by your generosity."
Ms. Dhammika Priyangani, speaking on behalf of the parents of Arugammana Maha Viddayalaya, Kegalle, shared her heartfelt sentiments, "Divi Saviya program has been a lifeline for the children who face financial hardships in pursuit of their education. Our gratitude to LOLC knows no bounds for this priceless support, and we gratefully wish that your institution continues to champion such profoundly impactful social initiatives."
The 'Divi Saviya' initiative, which commenced in February 2023, began with 1390 schools and expanded its reach across the entire island. Under the second phase, initiated in August, the project is set to extend its assistance to 1512 schools further, catering to the students' needs. Operating under the theme 'For the future of the children,' this program provides school requirement kits comprising school bags, exercise books, pens, pencils, colour boxes, and mathematical toolboxes to schoolchildren. LOLC Group has made a substantial investment of 1.5 billion rupees in this endeavour.