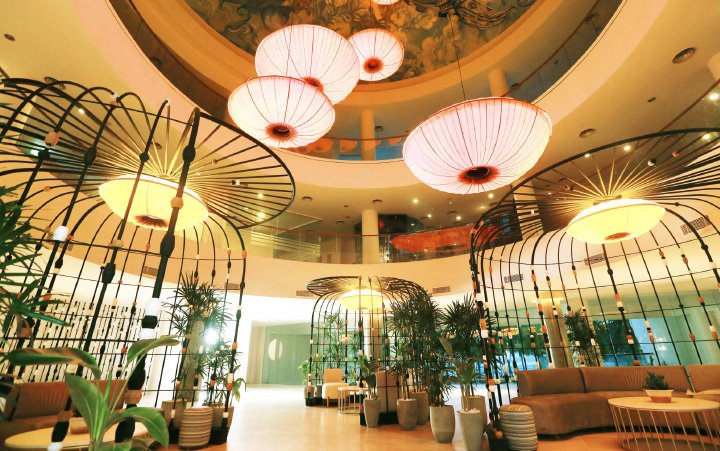 Occidental Eden Beruwala is the latest addition to the Barceló Hotel Group portfolio in Sri Lanka. Formerly known as Eden Resort and Spa, Beruwala, Occidental Eden Beruwala is owned by Browns Investments, and managed by the world-renowned Barceló Hotel Group under their Occidental brand. Occidental Eden Beruwala reopened its doors in May 2023 following the conclusion of an extensive renovation involving a total revamp of all 158 guest rooms, common spaces and guest amenities at a cost of Rs. 1.5 billion.
Located along the pristine sun kissed beaches of Sri Lanka's southwestern coast on a stretch known as the "Golden Mile" in Beruwala, Occidental Eden Beruwala was redesigned to modern comfort and luxury, bearing in mind the evolving needs of the discerning traveler. The new unique design features of the Occidental Eden Beruwala are inspired by the art, culture and wonderful landscapes of Sri Lanka, while the resort-style ambiance creates an idyllic backdrop for a truly unforgettable island-holiday.
Occidental Eden Beruwala is the second hotel managed by Barceló Hotel Group in Sri Lanka, following the opening of Occidental Paradise Dambulla in 2021, a 4-star, 67-room hotel located in the cultural hub of Dambulla. The management of both hotels in Sri Lanka is the result of an agreement signed by Barceló Hotel Group in 2019 with Browns Investments, a subsidiary of the LOLC Group. This agreement also includes the management of two newly built hotels in the Maldives: a spectacular 100-villa resort located on the island of Bodufinolhu, set to open in August 2023, and an urban hotel in Malé, the country's capital, scheduled to be opened in 2024. In addition, the agreement includesthe future development of a complex of three 5-star hotels in North Male Atoll, also in the Maldives.
Speaking at the official relaunch of Occidental Eden Beruwala, Mr. Suresh Athukorala – Cluster General Manager of Occidental Hotels in Sri Lanka said "We have embarked on a substantial investment to elevate the standards of our facilities at Occidental Eden Beruwala. As we set our sights on the future, we are thrilled to embrace the promising prospects of Sri Lanka's tourism sector, with projections indicating a steady rise in traveler arrivals over the next 12 to 18 months. With our upgraded amenities and dedicated staff, we invite guests to immerse themselves in unparalleled hospitality Eden has to offer.
Also speaking at the occasion Mr. Adrian Jansz - Director Sales and Marketing – Occidental Hotelsin Sri Lanka said, "The relaunch of Occidental Eden Beruwala exemplifies Barceló Hotel Group's unwavering commitment to continuous innovation. With this endeavor, we aim to not only elevate the standards of hospitality, but also position Sri Lanka as a leading global destination. The partnership with Browns Investments as the property owner, has further strengthened our ability to deliver seamless management and exceptional hosting, ensuring a smooth and flawless guest experience. Together, we embark on a remarkable journey of excellence. Our goal is to attract discerning travelers from the mid-upper market segment, offering them an extraordinary experience to cherish".
Meanwhile commenting on the tie up with Browns Investments, Mr. David Fernandez, Area Manager Asia, Barceló Hotel Group said "Barceló Group is delighted to solidify its partnership with Browns Investments and is eagerly anticipating an exhilarating new chapter with the Occidental Eden Beruwala. As we move forward, Barceló Hotel Group remains dedicated to expanding its presence in Sri Lanka and the Maldives, recognizing the immense potential and opportunities these destinations offer. Together with Browns Investments, we embark on an exciting voyage of growth, innovation, and experience."
In keeping with Barceló Hotel Group's world-class approach to hospitality, Occidental Eden Beruwala has been designed to offer a truly unforgettable island-holiday for diverse range of travelers. From the the newly renovated All Day Dining restaurant, à la carte restaurant, pool bar and a newly created sports bar, to the magnificent swimming pool and extensive gardens, all have been carefully curated to showcase a resort-style ambiance that will create the backdrop for a truly unforgettable travel experience. The Balinese Spa presents a holistic approach for wellness enthusiasts, while the meeting and banqueting venues along with the beautifully landscaped outdoor spaces of the Occidental Eden Beruwala are ideal for MICE tourism.
The establishment comprises of various amenities designed to cater to different age groups. For the younger ones, there's the vibrant and engaging 'Barcy Club', where children can explore their creativity and have endlessfun underthe supervision of trained staff. Teenagers can enjoy the exclusive 'ONE' Teen Club, a dedicated space where they can socialize, participate in exciting activities, and make lifelong memories. Additionally, the hotel provides a plethora of indoor and outdoor recreation activities, ensuring that guests of all ages can indulge in their preferred pastimes.
Barceló Hotel Group, the hotel division of the Barceló Group, is the second largest hotel chain in Spain and is among the top 30 largest in the world, in number of rooms. The group currently operate more than 280, 4 and 5-star urban and holiday hotels, totaling more than 62,000 rooms across 25 countries and marketed under four brands: Royal Hideaway Luxury Hotels & Resorts, Barceló Hotels & Resorts, Occidental Hotels & Resorts and Allegro Hotels. It is also part of the Crestline Hotels & Resorts group, an independent hotel company with 130 establishments. For more information please visit: www.barcelo.com